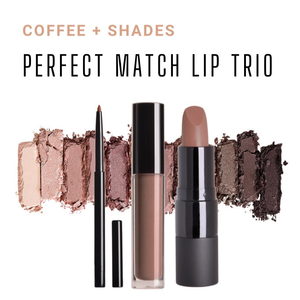 A handcrafted set of lip products that create a perfectly matched lip combo to match any mood.
COFFEE + SHADES Lip Trio Includes: 3 products for 1 price
Lip Liner (Spice)- A warm buttery light brown w/ a hint of pink
Gloss Me Out Gloss (New Nude)-a soft nude no glitter w/ peach undertones, 
Lip Addict Lipstick (Kissland) - A light browny-nude with warm undertones. This nude is a warm with yellow undertones. A darker nude compared to " Boyfriend Friendly".