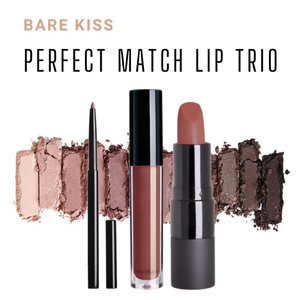 A handcrafted set of lip products that create a perfectly matched lip combo to match any mood.
BARE KISS Lip Trio Includes: 3 products for 1 price
Lip Liner (Spice)- A warm buttery light brown w/ a hint of pink
Gloss Me Out Gloss (Simply Perfect)-a pinky-nude 
Lip Addict Lipstick (Lust) - A warm pink with brown undertones.
This nude is warm, that swatches slightly mauve.