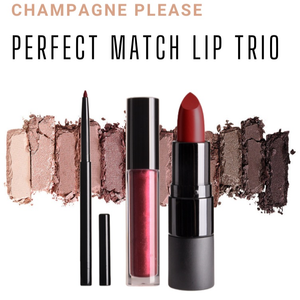 A handcrafted set of lip products that create a perfectly matched lip combo to match any mood.
CHAMPAGNE PLEASE Lip Trio Includes: 3 products for 1 price
Lip Liner (Red)- a true deep red
Gloss Me Out Gloss (Pont D' Arc)-a reflective red wine shade, slight metallic red reflects.
Lip Addict Lipstick (Thrill) - a true classic red without orange undertones. This red is not bright but deep and has blue undertones.