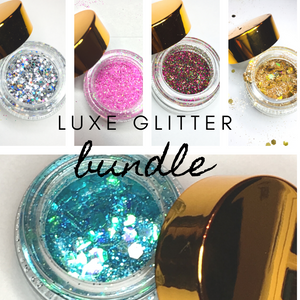 This set includes all 5 of our Luxe Glitter's in one set. Shipped in a cute cosmetics pouch perfect for a gift. 
3 X's larger size (10 grams)
Luxe glass packaging with stay fresh inside seal to keep glitter from getting everywhere
Limited edition custom colors that cannot be purchased anywhere else
Can be used to set on the eye with a glitter glue and a small flat eye shadow brush. Some blends are very chunky and will fall w/o the use of glitter glue or a base.
1 Aquamarine Pot - teal blue w/ iridescent chunks 
1 Confetti Pot- Platinum base, w/ mutil- colored small 3-D glitters 
1 Shortcake Sprinkles Pot- hot pink base, with fuchsia, gold and silver fine glitter
1 Mardi Gras Pot- Deep purple base w/ green, gold fuchsia and pink fine glitter 
1 Treasure Pot- Gold base w/ chunky gold and iridescent glitters
5 pots total in the set     
Individual Size: 2x2 Jar 
Portion Qty: 3 Tablespoons of product in each jar