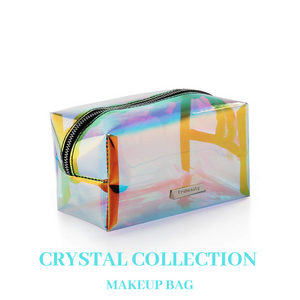 Keep all your essentials secure with this iridescent large makeup bag. Perfect for travel/ vacay. This pvc bag can get wet, is completey see through allowing easy view of your makeup items. Deep interior design for such a compact bag ( we filled this bag with 10 products & a water bottle  and still had room) 

Dimensions: 7.9" L X 4" W X 4.3"H
Main Compartment Closure:: Zip Closure
Shell Material:: PVC 
Interior Features: PVC interior can be wiped cleaned inside & out
Care and Cleaning: Wipe Clean with cloth, water and soap.