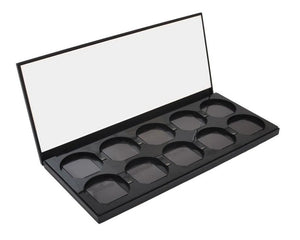 The first addition in our custom palette system line. This very sleek, empty 10 PAN, blush system allows you to build your perfect blush palette. With 10 magnetic adhering compartments, the possibilities are endless.
This system is also equipped with a large internal mirror for ease and glam on the go.
Pan Dimensions: 26mm/ 1.02 inches
System can be used with any loose very large shadow or blush pan
Each system comes w/ 10 magnetic stickers 
Place magnetic sticker on the back of the single blush and place inside the empty well
To remove or replace your pans remove using our metal spatula. 
The spatula will remove your pans without damaging them.